Now that many of you seem to be wandering around aimlessly post-University, how about a trip to Swindon for a history lesson?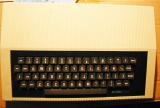 The Museum of Computing (see www.digitalhistory.org.uk) is holding an exhibition entitled Computers@Home and features machines from the late 70's through to the 80's. Acorn hardware included? I should cocoa. Atoms, Electrons and Beebs, and maybe some old-school Archimedes, nestle among other lesser machines from Apple, Commodore, Sinclair and Atari, to name but a few.
Many of the machines are from organiser Simon Webb's personal collection, but the exhibition is constantly being updated as more machines are donated. Not doubt if you have some hardware to donate they'd like to hear from you too (I'm looking in your direction, Mr. The Vigay).
Skint students and taxpayers alike will no doubt be overjoyed that admission is free, Monday to Friday 9-5 and Saturdays 9-1. You're looking for the Oakfield Campus of the University of Bath in Swindon. There's even directions on the web site to help you out. So come on students, get out of bed, and spend the afternoon actually learning something for a change!