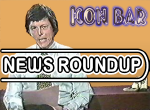 There is a few things that we have missed since the start of 2005, so I will quickly round them up in summary.
Our friends at Drobe have
given three lucky RISC OS users
a copy of Desktop Repton Plus after choosing them at random from those who voted in their RISC OS 2004 awards.
Microdigital have sent out a "well written" 60 page welcome guide for the Omega computer to owners which explains the basics of getting to know your Omega.
LAUG (Liverpool)
and
BAUG (Bottisham)
both meet this coming Tuesday at 7:30PM. All a welcome.
SAUG (Soton)
meet this Monday at 7:00PM.
CJE Micro's are
selling some rather nice 20 inch LCD monitors
for 614 of our British Pounds.