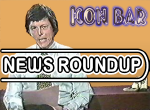 Updates have been less forthcoming on
all
the
news
sites
this week - to make up for it, here's the TIB news round-up.
Software updates
Locate is a sophisticated search utility that finds files and directories matching a set of criteria. Version 0.89 fixes several recent and long-standing bugs and now supports STDMMK and RISC OS 5 Windows hotkeys.
The lightweight e-mail client TapirMail from The Flying Pig hits version 0.99 with a bunch of new features: MIME attachment decoding, address book, CC and BCC fields, and support for "mailto:" hyperlinks. TapirMail is shareware, and registration costs as little as five of your British pounds. Get it here.
Hard Disc Companion has been revamped by APDL and ProAction. It's now 32 bit savvy so you can run it on your Iyonix, and some bugs have been squished in the process. New users can buy it for ?14.90, while existing owners can grab an upgrade for ?6.
Our final item is a new release from Jeffrey "Phlamethrower" Lee. Absolutely is a fabulous utility that fixes a long standing memory problem in RISC OS whereby "absolute" programs can crash if there isn't enough wimp slot memory allocated. When the module is installed, Absolutely ensures the memory requirements are met automatically. Download it from this ridiculous URL.
Media watch
Finnybank's debut issue of Acorn User (as it will be known until the offical ISSN name change in a couple of months) is at the printers, and editor John Cartmell hopes it can be distributed soon as possible. Meanwhile, over on the interweb, Archez have published a guide to networking RISC OS and Windows XP computers.
Computer news
Iyonix users requiring Castle to apply "The Fix" to their motherboards have a couple of opportunities. One is at a special RONWUG (North-West) user group meeting on February 16th. Visitors to the South West show on the 28th can get the mods done too - but contact Castle first.
Meanwhile sceptics and consipiracy theorists will have to find a new target - the Omega is shipping! Liquid Silicon have announced that the final few back-orders of Omega systems are on their way to customers.
We'd be interested in publishing a review of the Omega, so please drop us a line - news@iconbar.com - if you think you could help.