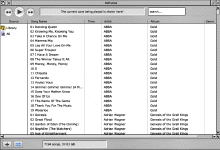 Well known RISC OS advocate
Paul Vigay
has been busy this weekend, first
teasing
people with his RISC OS
iTunes clone
, then by revamping his RISC OS portal,
RISCOS.org
to match the also recently updated style of his new
Orpheus Internet
website.
Paul's iTunes clone is the result of him selling his beloved iMac, and needing to play his music library on his Iyonix computer. So far, ROTunes manages to load the playlist of over 7000 tracks faster than his iMac does. It is not yet known if Paul is going to implement iPod support for users of machines with USB hardware.
At the same time, Andrew Flegg of Jaffa Software has started to write a similar thing called "MyTunes" using WimpWorks. He's also recently released a TV Guide application for RISC OS.
Links:
Paul Vigay, Paul's weblog
RISCOS.org, Orpheus Internet
RISC OS iTunes Close, iTunes for RISC OS
Jaffa Software